Rebecca Chung, OD, FAAO, FSLS
Corneal Care, Diabetic Wellness, Dry Eye Syndrome, General Eye Care, Glaucoma, Specialty Contact Lenses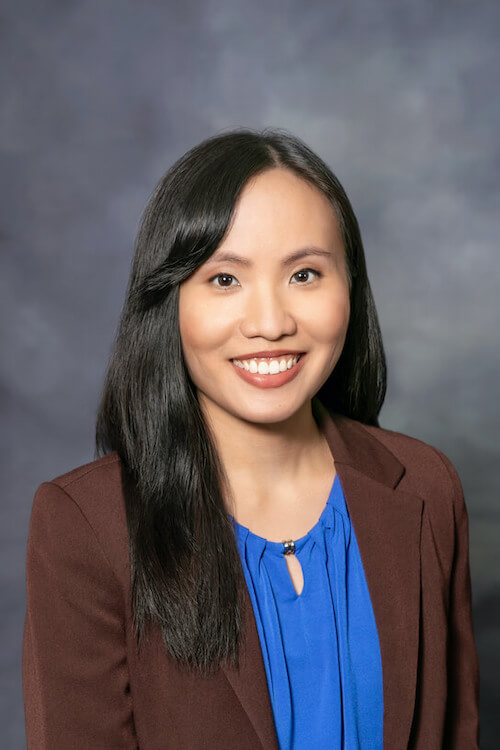 Fellowship Trained Optometrist
Board, Therapeutic and Glaucoma Certified
Medically Necessary Contact Lenses
Primary and Perioperative Care
Originally from Vancouver, Canada, Dr. Rebecca Chung received a Bachelor of Science degree in Biotechnology with Honours from the University of British Columbia. She went on to attend the Pacific University College of Optometry, where she served as chapter president of the Beta Sigma Kappa Optometric Honor Society and Student Ambassador for the optometry program. Dr. Chung graduated with her Doctorate of Optometry degree as Valedictorian, having also earned the highest written board exam score in her class.
Her clinical externships provided diverse experience in comprehensive eye care with an emphasis on ocular disease, low vision, dry eye and surgical co-management. Following graduation, Dr. Chung was selected to complete the Medical Contact Lens Fellowship at Casey Eye Institute, the ophthalmology division of Oregon Health & Science University in Portland, Oregon, where she received advanced clinical training in the management of complex anterior segment disease and the fitting of medically necessary or specialty contact lenses for patients of all ages.
Dr. Chung is passionate about working with hard-to-fit patients and finding tailored contact lens solutions to optimize their vision and quality of life beyond what is achievable with traditional glasses or contacts. Eye conditions that can benefit from specialty contact lenses include irregular corneas from keratoconus, corneal transplants, corneal scarring or refractive surgery, advanced dry eye disease, high or asymmetric prescriptions, and disfigured eyes requiring cosmetic correction. Dr. Chung has worked extensively with corneal gas permeable, scleral, hybrid, custom soft, and prosthetic contact lenses and is also certified in orthokeratology, also known as corneal refractive therapy, and MiSight® 1 Day contact lenses for myopia management.
Dr. Chung is a Fellow of the American Academy of Optometry, a distinction achieved by less than 10% of optometrists nationwide for upholding the highest standards of professional competence. She is also a Fellow of the Scleral Lens Education Society, a designation given to proven scleral lens fitters by experts in the field and is the only practitioner in the area with this level of expertise north of Sacramento. Dr. Chung has presented posters on the topic of specialty contact lenses at national optometry meetings including the American Optometric Association. Her heart for underserved communities has also led her to participate on an eye care mission trip to Guatemala as well as volunteer at initiatives such as Special Olympics – Lions Clubs International. In her free time, Dr. Chung enjoys Zumba, trying new foods and exploring the great outdoors of Northern California with her husband, Andy.
Education & Training
Bachelor of Science in Biotechnology with Honours from the University of British Columbia
Doctor of Optometry degree from Pacific University College of Optometry, summa cum laude
Medical Contact Lens Fellowship at Casey Eye Institute, Oregon Health & Science University
Memberships
American Optometric Association
American Academy of Optometry
California Optometric Association
National Keratoconus Foundation