Christopher Lin, MD
General Eye Care, Glaucoma, Advanced Cataract Surgery, Clear Lens Exchange, Minimally Invasive Glaucoma Surgery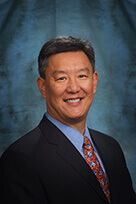 Dr. Lin enjoys providing comprehensive eye examinations, diabetic screening exams, cataract surgery, and medical and surgical glaucoma care. He is currently the only ophthalmologist in the North State Region with advanced glaucoma fellowship training. Advanced fellowship training has given Dr. Lin special skills to competently treat especially complex and challenging glaucoma cases that are beyond the scope of practice of many other ophthalmologists. His up-to-date clinical tools include computerized visual field monitoring, simultaneous stereo optic nerve photography, laser measurement of retinal nerve fiber layer thickness, and an endocyclophotocoagulation surgical instrument, which reduces the number of required glaucoma medications for his patients.
Dr. Lin is often asked to assist pharmaceutical companies with research studies involving new glaucoma medications. A significant number of his patients have participated in these trials, allowing them the opportunity to help with the development of medications that ultimately may benefit all patients with glaucoma.
Dr. Lin is an avid free diver, scuba diver, tennis player, bicyclist, and swimmer. He resides in Redding with his wife Connie, two daughters, and two sons. They are happily devoted to their children's educational and extracurricular activities.
Cum Laude Bachelor of Arts Degree from University of Pennsylvania
Medical Degree from University of Pennsylvania
Internal Medicine Internship at Kaiser Foundation Hospital in San Francisco
Ophthalmology residency at Indiana University School of Medicine
Fellowship training in Glaucoma at Washington University School of Medicine in St. Louis, MO
Diplomate of the National Board of Medical Examiners